The Sardinian Cavalcade is an event that takes place every year in Sassari in late May.
History of the Sardinian Cavalcade
The first edition dates back to 1899, when, in honor of the visit of King Umberto I and Queen Margherita of Italy, in Sassari there was a parade representing the main villages of Sardinia, whose inhabitants showed the typical traditional costumes.
Given the success, who made rush of visitors from neighboring villages, the appointment was proposed again in later years; then, after various interruptions (including the two world wars), it it became annual, starting from the 50.
Over time it has not lost the charm and flavor of tradition, indeed, compared to the first edition, the Cavalcade has been enriched by many events, starting already since a few days before, becoming almost a continuous party for residents and tourists.
The cavalcade today
The parade is organized along a predetermined path in the streets of the center of Sassari; in which various folk groups perform on foot, on horseback or on board of traccas, the traditional carts drawn by oxen.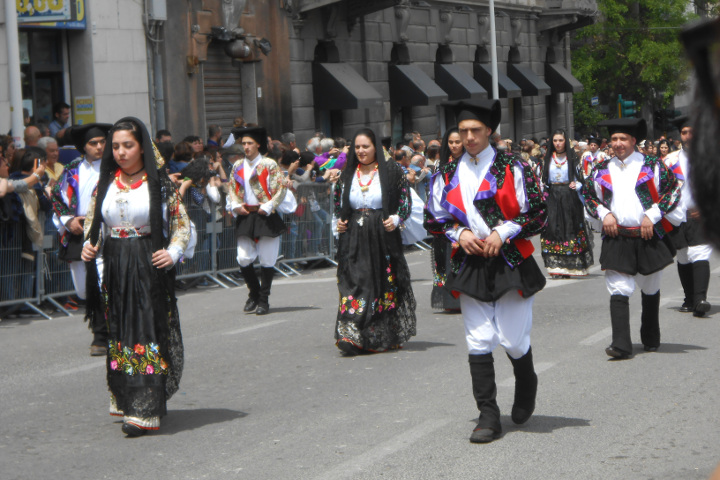 Participants are men and women, singles or couples, families with children, seniors, showing rich colors costumes, brocades, jewelry… Both Sunday clothes that simple clothes are showed, worn by the rich of the country or by the poor people…
Costumes and symbols, pride of the various countries of Sardinia, represent local tradition. There are also many elements of the Sardinian cuisine exposed, such as sweets, wine or fruit; in particular, you will find famous products, such as oranges of Milis, or Bonnannaro cherries.
Participants perform in folk dances, like the typical ballu tundu in different local variations; the typical musics are Sardinian tenores songs, or taxiing the drums (drummers of Oristano) and so on.
Characteristic are also the costumes of the Sardinian hinterland Carnival (eg. Boes and merdules, Mamuthones, etc.), worn by the actors parading proudly with wooden masks or leather heavy fleeces of sheep, that gradually exhibit miming scenes of pastoral life or hunting.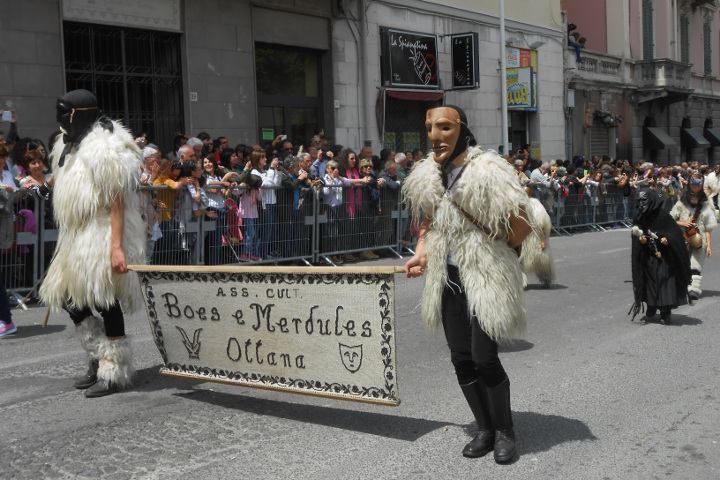 Obviously, many of the participants parade on horseback, hence the name of the Cavalcade.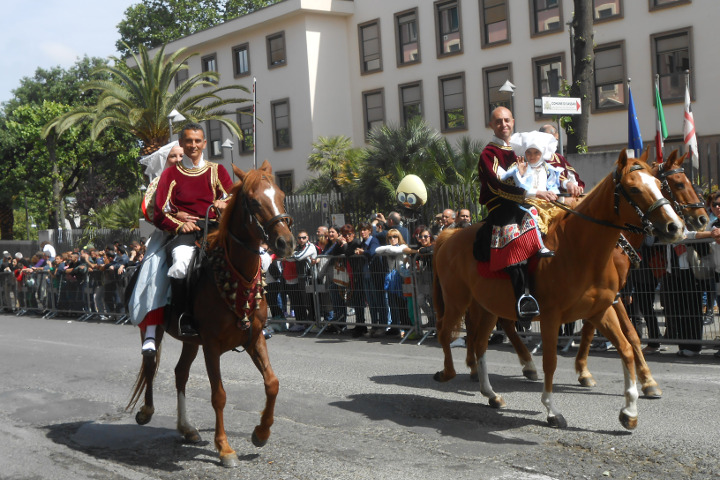 The pariglie, equestrian acrobatic shows
The famous pariglie are equestrian acrobatic shows, a symbol of courage and skill of young Sardinian. The knights, who perform in extreme races galloping standing on the rump of the horses, making human pyramids.
Initially carried out in the city streets, races have recently been moved for security reasons; so, today we can see the knights inside Sassari hippodrome, typically in the early afternoon.
The already eventful day ends with the festival of folk songs and dances of Sardinia, which brings together all groups and the public to celebrate in the Piazza of Italy.
Here there are some pictures that we took during the parade of 2015… It was beautiful sunny day. If we have intrigued you… Don't miss the 77th edition of the Ride to be held Sunday, May 22, 2016 in Sassari of course!