Near Oschiri, inside the cemetery, there is the small medieval church of San Demetrio… a little gem from the past!
Even if today we are, in fact, close to the village, we can consider our destination as one of the ancient country churches in the area.
The small church
The Oschiri cemetery is located on a hill overlooking the village.
Inside we reach the small church, located in the area of the northern entrance. The cult building, surrounded by trees, has a very essential appearance – overall with a rectangular plan, except for the small semicircle apse on the rear side.
The style of San Demetrio is Romanesque, with a bare facade and small windows on the other sides. The building dates back to the 11th century, built by the hand of local workers; the materials used, in particular the reddish trachyte ashlars, recall other works in the area, including the Sanctuary of Nostra Signora di Castro.
An artifact recovered during the restoration of the seventies, made the church of San Demetrio special: a metal case containing relics and the parchment of consecration! It shows that the church was consecrated in the year 1168 by Bishop Attone of the diocese of Castra, with a dedication to San Demetrio, the Blessed Stefano martyr and Sant'Erasmo. The seat of the diocese, in the Middle Ages, was precisely the former cathedral of Our Lady of Castro, previously mentioned.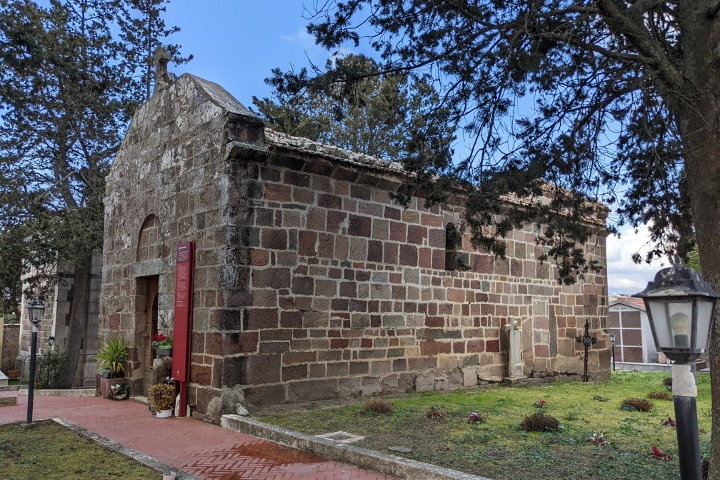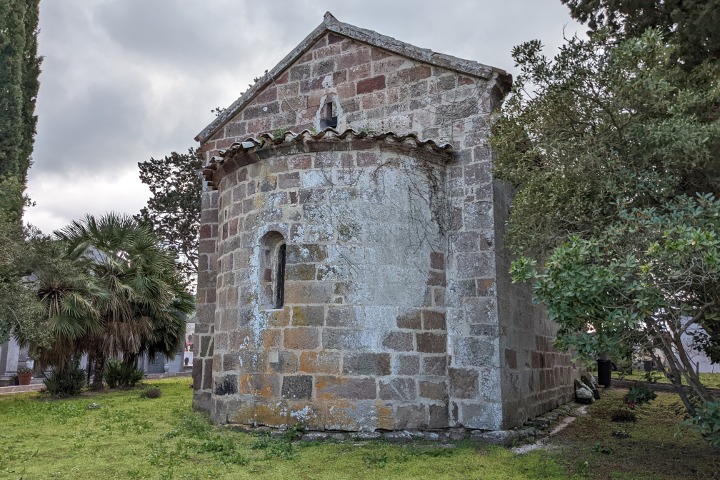 Inside the church
The interior of the church, simple and with a single nave, is not very bright. There are not the original works and furnishings, but you can still see a statue from the 18th century of San Demetrio.
Information for a visit
Access to the church is permitted during the cemetery's opening hours; during our visit – a few months ago – the opening was from 8:00 to 17:00, but we invite you to check for any changes via the website of the Comune di Oschiri.